An Autumn Salad with Apple and Smoked Salmon may sound a little quirky but throw some grapes in there and you've got a taste explosion in your mouth!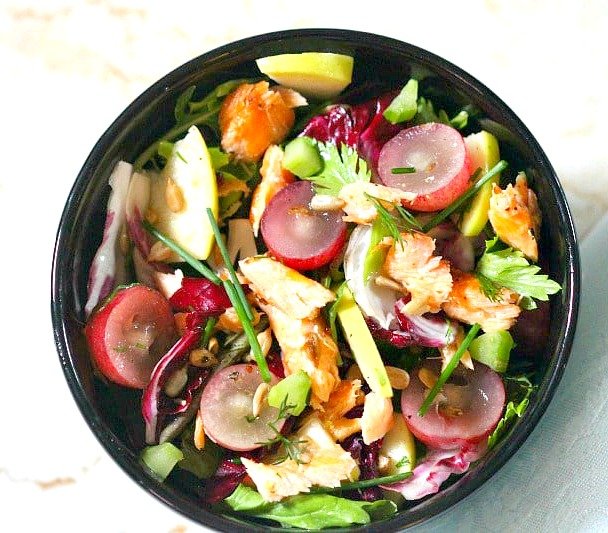 I have to admit that some folks will likely balk at the combination of ingredients in this salad but trust me, it works!  I wanted to create a salad with the colors of Fall and something a little quirky – and I think this is it.  Aren't you tired of eating the same old things?  You've got to give your taste buds a jolt now and then – it's good for you!
When you look at the list of ingredients you'll have to agree that each item complements the other.  After all, salmon goes with apples – right?  Grapes go with apples – right?  Grapes baked on salmon is fantastic – trust me – it is!  So why not combine them all for a taste explosion in your mouth!
I was out at Barrie Hill Farms last weekend and picked up these delicious Mutsu apples.  They are perfect for salads because they have a fresh, crisp, sharp taste that works well in thin slices.  They're great to eat just as is, too.  They had a beautiful selection and I wanted to bring home bushels to drop off to friends and family to make apple pies.  I really need to learn how to bake!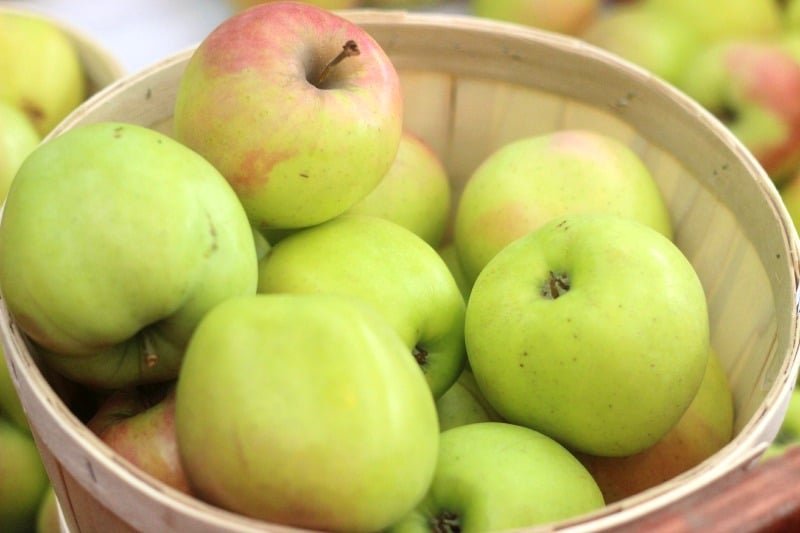 They had some great decorating ideas for Thanksgiving this weekend as well!  Because Canadian Thanksgiving falls before Halloween, we often use pumpkins on our tablescapes.
As always, the dill and chives in this salad really pack a punch and the toasted pumpkin seeds add some crunch along with the celery.  The dressing is very simple and I would recommend doubling up on it because I think you'll like it on garden salads as well.
I thought the radicchio added some richness in color and flavor and you'll want to toss in the leaves from the celery as well because they're full of good nutrients.
I used globe grapes because they have that nice round shape and make a better presentation.  Besides, they're super juicy right now and delicious! I even tossed a little feta cheese on it when I made it again the next day.
Autumn Salad with Apple and Smoked Salmon
Ingredients
2

cups fresh greens, rinsed and dried

1

cup radicchio leaves, rinsed and dried

1

mutsu apple (or your choice), cored, thinly sliced

1

cup of grapes, washed and cut in half

6

oz

smoked salmon, cut into bite sized pieces

1

stalk of celery, diced

toasted sunflower seeds

2

ounces

of crumbled feta cheese (optional)
Dressing
5

tbsp

grapeseed oil

2

tbsp

white wine vinegar

1/2

tsp

Dijon mustard

1/4

tsp

raw honey

salt and pepper to taste

1

tbsp

of chopped chives and dill
Instructions
Simply mix ingredients together for salad, tossing gently.
Dressing
Mix all ingredients together, except fresh herbs. Stir well and add herbs just before serving.
Nutrition
Calories:
157
kcal
Fat:
17
g
Saturated Fat:
1
g
Sodium:
7
mg
Follow us on Facebook for more delicious farm-fresh recipes, and updates on our growing seasons!
Recipe courtesy of Simply Fresh Dinners,  A partner with Barrie Hill Farms in bringing fresh recipes to your table.
More Apple Recipes from Barrie Hill Farms
Autumn Kale Apple and Quinoa Salad
Goat Cheese Bruschetta with Honey Crisp Apple
Oven Roast Chicken Breast with Apples and Grapes