This creamy Vegan Pumpkin Pasta will delight your taste buds with its tantalizing flavor combo of pan-fried capers and slivered almonds, roasted shallots, garlic and sage along with the addition of creamy vegan goat cheese.  Try making this vegan penne pasta with high quality and all the delicious herbs and you will want to experiment with more punpkin pasta dishes like this one!
What Makes Vegan Pumpkin Pasta Awesome?
Are you ready for another season of pumpkin crazed recipes?   I don't have a lot on my blog so I decided it was time to combine it with some penne pasta and make a vegan penne pasta!   I'm finding that I'm leaning towards more vegan recipes these days as well so this was the perfect opportunity to play mad scientist in my kitchen.  I was pretty impressed with this one once it was all done.  This is a recipe that everyone will enjoy and you get those healthy carbs into your active families diet!
So what makes this dish so tasty? I believe the high quality organic extra virgin olive oil is what helps it be that much more delicious.  I use this oil to pan fry the shallots and capers. and then I reserve the leftover oil.  Place the garlic and sliced shallots on your cookie sheet and top the shallots with fresh sage leaves and drizzle it all with the oil.  Fabulous.

The Secret is in the Blender
It's so much fun to experiment with this healthy Vegan Pumpkin Pasta in my kitchen and there is no end to the types of dishes you can make with gorgeous, seasonal produce. I am just loving the pumpkin from Barrie Hill Farms this season – there is something amazing about this seasons crop!
One of my biggest tips for this recipe is to make sure you are using a high-quality blender.   I have never gone cheap with my blenders because I use them soo much and they are a really important part of my kitchen.  Do yourself a favor, and invest in a great blender (and food processor!)  For this recipe, you can roast the pumpkin but I'm all about quick and easy so I went with pumpkin puree this time. You can use a food processor or your high powered blender to bring it all together and you're ready.  Quick and easy, right?
With the holiday season fast approaching, this is a great go-to meal for the nights when you're in need of some clean eating.  A simple dish with robust flavors.  Enjoy and let us know how it turned out. If you are on Instagram, please hashtag your photos with #barriehillfarms. Thanks and Cheers!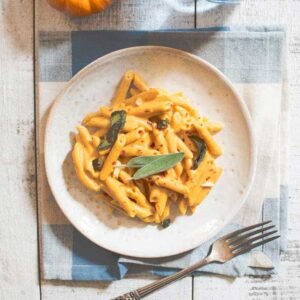 Vegan Pumpkin Pasta
This creamy Vegan Pumpkin Pasta will delight your taste buds with its tantalizing flavor combo of pan-fried capers and slivered almonds, roasted shallots, garlic and sage along with the addition of creamy vegan goat cheese.
Ingredients
1/2

cup

raw cashews

4

tbsp

olive oil

extra virgin

2

tbsp

capers

dried

1/4

cup

slivered almonds

2

shallots

sliced

5

cloves

garlic

peeled

handful of fresh sage leaves

1

cup

pumpkin puree

4

oz

vegan goat cheese

1/2

cup

vegetable stock

salt and pepper to taste

pinch red pepper flakes

8

oz

pasta penne
Instructions
Soak the cashews in water overnight or a minimum of 3 hours.

Heat olive oil in small pan on medium high. Add capers and almonds and saute until almonds are toasted; about 4 minutes.

Remove capers and almonds with a slotted spoon and set aside. Reserve oil.

Preheat oven to 350 F. On baking sheet place garlic and shallots. Top each slice of shallot with a fresh sage leaf. Use reserved oil to drizzle over sage, shallots and garlic. Roast for 15 minutes. Remove from oven.

Pour the vegetable broth into the blender. Add raw cashews, pumpkin puree, goat cheese, shallots, garlic and sage. Add salt and pepper to taste. Reserve a few roasted sage leaves for garnish.

Blend on high speed and smooth and creamy. You may need additional vegetable broth to get your desired consistency.

Cook your pasta according to package directions. Reserve 1 cup of pasta water. Drain, rinse and return to pot.

Add 1/4 cup of pasta water along with pumpkin sage sauce to your pasta, tossing lightly until penne is coated. Add additional pasta water if you want it super creamy.

Top with reserved sage leaves, capers and almonds. Sprinkle with a pinch of red pepper flakes.
Nutrition
Calories:
574
kcal
Carbohydrates:
57
g
Protein:
18
g
Fat:
31
g
Saturated Fat:
7
g
Cholesterol:
13
mg
Sodium:
351
mg
Potassium:
463
mg
Fiber:
5
g
Sugar:
6
g
Vitamin A:
9890
IU
Vitamin C:
4.7
mg
Calcium:
103
mg
Iron:
3.8
mg
Follow us on Facebook for more delicious farm-fresh recipes, and updates on our growing seasons!
Recipe courtesy of Simply Fresh Dinners,  A partner with Barrie Hill Farms in bringing fresh recipes to your table.
More Winter Squash Recipes from Barrie Hill Farms
Vegetarian Butternut Squash Soup
When are Pumpkins Available at Barrie Hills Farm?