This chilled Cantaloupe Strawberry Soup Recipe is not only a beautiful looking soup but it also packs the nutrients and is incredibly easy to make.  You will love this low-calorie smooth soup that could almost pass as a smoothie bowl but also makes for a great lunchtime meal or mid-morning snack!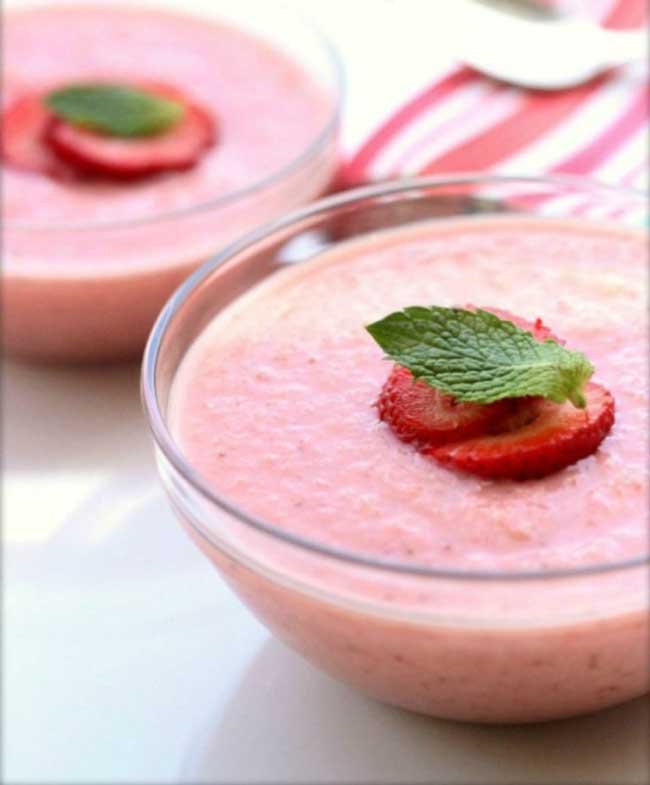 A Low-Calorie Cantaloupe Strawberry Soup Recipe
I made PINK soup!  Isn't it the craziest looking soup you've ever seen!?  Once you get past the colour though, you'll love the flavours.  I expected it to be closer to the cantaloupe colour but seems the red wanted to take over.  I've been going a little crazy on my purchase of fresh fruit lately and suddenly found myself with some berries and melon that I knew I wouldn't be able to eat in time so this recipe was born.
If you can operate a blender or food processor, you can make this tasty, chilled strawberry soup recipe.  No cooking involved.  Just blend all the ingredients and toss in the fridge for a couple hours to firm up.  You may want to blend it longer than I did but I tend to like my soups a little on the thick side.  And, (…I add this hesitantly..) if you really don't care for Low Fat Greek Yogurt, you can substitute sour cream.  It will taste great but definitely adds some calories.  Just be sure to leave out the honey.  Sometimes though, we just have to go for it, right?
I'm all about limes these days and I loved the zing it added to this soup. I've switch my passion for lemons to limes for the moment and there seems to be no end in sight to the possibilities of this zesty little fruit!
What do you do when you have too much fruit on your hands?  I'd love to hear your recipes and suggestions.  Hope your day is a good one. Cheers!
Cantaloupe Strawberry Soup Recipe
A light summery soup with no refined sugar. The combination of melon and strawberries is divinely simple and scrumptious!
Ingredients
1

cantaloupe

halved, seeded and cut into small chunks

1.5

cups

strawberries

thickly sliced

1/2

cup

Low Fat Greek Yogurt

1

tbsp

honey

3/4

tbsp

minced ginger

the juice of half a lime

handful of fresh mint leaves

thinly sliced strawberries for garnish

lime slices
Instructions
Combine cantaloupe, strawberries, yogurt, honey and ginger and lime juice in a blender or food processor, blending until smooth. You may have to do this in batches. If you require more thickness, add some additional yogurt and honey.

Chill for 2 hours or up to 2 days. Use mint leaves, strawberries and lime slices to garnish.

Note: I like to chill my soup bowls before serving to keep the soup cool especially if you're eating outdoors.
Nutrition
Calories:
102
kcal
Carbohydrates:
21
g
Protein:
4
g
Fat:
1
g
Cholesterol:
1
mg
Sodium:
34
mg
Potassium:
451
mg
Fiber:
2
g
Sugar:
18
g
Vitamin A:
4685
IU
Vitamin C:
82.4
mg
Calcium:
54
mg
Iron:
0.5
mg

Follow us on Facebook for more delicious farm-fresh recipes, and updates on our growing seasons!
Recipe courtesy of Simply Fresh Dinners,  A partner with Barrie Hill Farms in bringing fresh recipes to your table.
More Berry Recipes from Barrie Hill Farms
Quinoa Lentil Salad with Blueberries
When are Strawberries and Melons Available at Barrie Hills Farm?