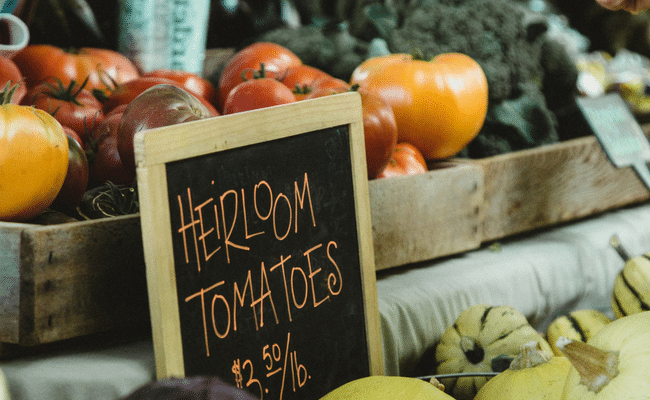 Even if you're in the heart of the city, it's worth a drive to your local farm market.  Getting closer to where your food comes from results in the freshest food possible, along with an excellent day out in the sunshine if you opt to pick your own.
While this may seem like work to you, it's a labour of love. When you pick your own fruits and vegetables, you're guaranteed the very best, and you'll appreciate it that much more because the rewards are delicious!
10. Buying Farm Fresh Produce Supports Farmers and the Local Economy.
It's true. Farmer's feed families. Help keep our farms strong by showing your support. Feel good about every dollar you spend, because it goes into the preservation of a way of life that sustains us all.
9. Farm Market Produce is the Freshest.
While farm markets sometimes take in fruits and vegetables from other local farms, you can rely that the food is the freshest available. In many cases, it's mere hours – not days – from field to table.
8. Fresh Produce is More Nutritious.
Experts agree that time and travel reduce the nutritional value of the food we eat. You get more from your food when it travels less.
7. Food from Farm Markets is Safer.
While you must always wash your fruits and vegetables before eating, farm market food is safer to eat. Supermarket produce is often handled much more, traveled farther, and is older.
6. Preserve Precious Farmland for Future Generations.
Supporting local farms in Barrie is one way to ensure that farmland is here to stay. Once it's gone, it's gone forever. Our land for growing food is a precious resource that we need to protect. Show your support and ensure that farms thrive to ensure the food security for future generations.
5. Fresh Baked Pies. Jams. Preserves. Honey.
Farm Markets source delicious artisanal foods locally, so there's always something delicious to eat for dessert.
4. Source the freshest Dairy Products at Farm Markets.
Many farm markets also carry a selection of fresh dairy products sourced locally as well. So, stock up on the freshest eggs and artisanal cheese, as well.
3. Fresh Picked Flowers.
Many farm markets carry an assortment of fresh flowers to decorate the table for your delicious summertime feast.
2. Celebrate the Seasons.
Observe the changing seasons by the agricultural calendar. Whether it's the first berries of spring, or picking out your pumpkin for Halloween, it's fun to bring the kids and really notice the changing of the seasons.
1. Avoid the Lineups and Parking Lots.
Shopping locally at your farmer's market is something to be enjoyed, not another chore to do. There's something to be said for slowing down and simply enjoying the good weather while it lasts.
Have we convinced you yet? Visit a Farm Market near you, before the long, lazy days of summer are over.