A healthy asparagus soup doesn't get any easier than this!  Just a few simple ingredients and you've got yourself an elegant dish that is super healthy.  This asparagus soup recipe is perfect as an appetizer so I'm including it in my Easter menu series.  Doesn't it make you think that Spring is just around the corner?  It is – no, really…it is!
Use Fresh Ingredients For Your Healthy Asparagus Soup Recipe
You will be sure to impress your guests as you whip this up while your beautiful ham is cooking. Yes, I have a recipe for ham coming up, too.  Wait till you see it – deliciousness!  And it was the first time I ever cooked a ham – I was terrified – it was too funny.  You'll have to tune in to read the story on THAT one!
Ok, back to this healthy soup that will have everyone asking if you've been secretly going to culinary school at night.  The best thing about eating fresh foods is that you don't need a lot of them to create spectacular flavors.  When you find the right combination, magic happens and you have that wonderful explosion on your taste buds that are just pure goodness.  This is one of those dishes.  Best of all, it's easy, inexpensive and your kids will love it even though it's green!
I shopped for the fresh produce at Barrie Hill Farms, a farm that delivers fresh produce on a schedule (see below for their harvest schedule).  One of the very few downsides about living in Canada is that during the winter months a lot of our fresh produce in the big supermarkets is coming from thousands of miles away and who knows when it was picked.  If you are in cold weather climate, check out the farms in your area.  You'd be surprised by how many are freezing their summer harvests.
Easy Asparagus Soup Without Cream
Most asparagus soups will include cream in their list of ingredients. If you have dairy issues, the key is using olive oil instead of cream. Of course, if you don't have any dairy issues in your family, (and you're not vegan) you can always drizzle this with a little cream instead of olive oil before serving. It will add that extra za-za-zoom factor.  You can also add potatoes to give it a thicker, creamier texture.  There are lots of substitutes out there!  I'm definitely making this as an appetizer for Easter dinner.  What's going on at your house during this Spring season?
Do you have big Easter dinners with lots of friends and family or do you prefer a small gathering?
Do you have little kidlets who go Easter egg hunting?
What do you cook for Easter – ham, turkey, lamb or something wild and crazy that you've just GOT to share!?
I look forward to reading your comments.  Cheers!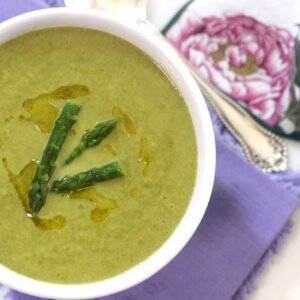 Asparagus Soup Recipe With Spinach & Garlic
This is a delicious asparagus soup recipe that can be made without cream by using other fresh ingredients.
Ingredients
.5

tbsp

vegetable oil

3/4

pound

asparagus spears

stalks chopped, woody ends discarded, tips reserved

3

shallots

finely sliced

2

garlic cloves

crushed

2

large

spinach

handfuls

2.5

cups

organic vegetable stock

or fresh if possible

salt and pepper

olive oil

for drizzling
Instructions
Heat the oil in a large saucepan on medium heat. Saute the asparagus tips for 2 minutes to soften. Remove and set aside.

Add the shallots, asparagus stalks and garlic, and cook for 5-10 mins until softened but still bright. Stir through the spinach, pour over the stock, bring to the boil, then blitz with a hand blender.

Season generously with salt and pepper and add hot water to loosen if needed. Ladle into bowls and scatter the asparagus tips over each. Drizzle with olive oil.
Nutrition
Calories:
54
kcal
Carbohydrates:
8
g
Protein:
2
g
Fat:
1
g
Saturated Fat:
1
g
Sodium:
592
mg
Potassium:
234
mg
Fiber:
2
g
Sugar:
4
g
Vitamin A:
1005
IU
Vitamin C:
6.8
mg
Calcium:
30
mg
Iron:
2.1
mg

Follow us on Facebook for more delicious farm-fresh recipes, and updates on our growing seasons!
Recipe courtesy of Simply Fresh Dinners,  A partner with Barrie Hill Farms in bringing fresh recipes to your table.
More Asparagus Recipes from Barrie Hill Farms
Asparagus Tomato Salad with Feta
When is Asparagus Available at Barrie Hills Farm?