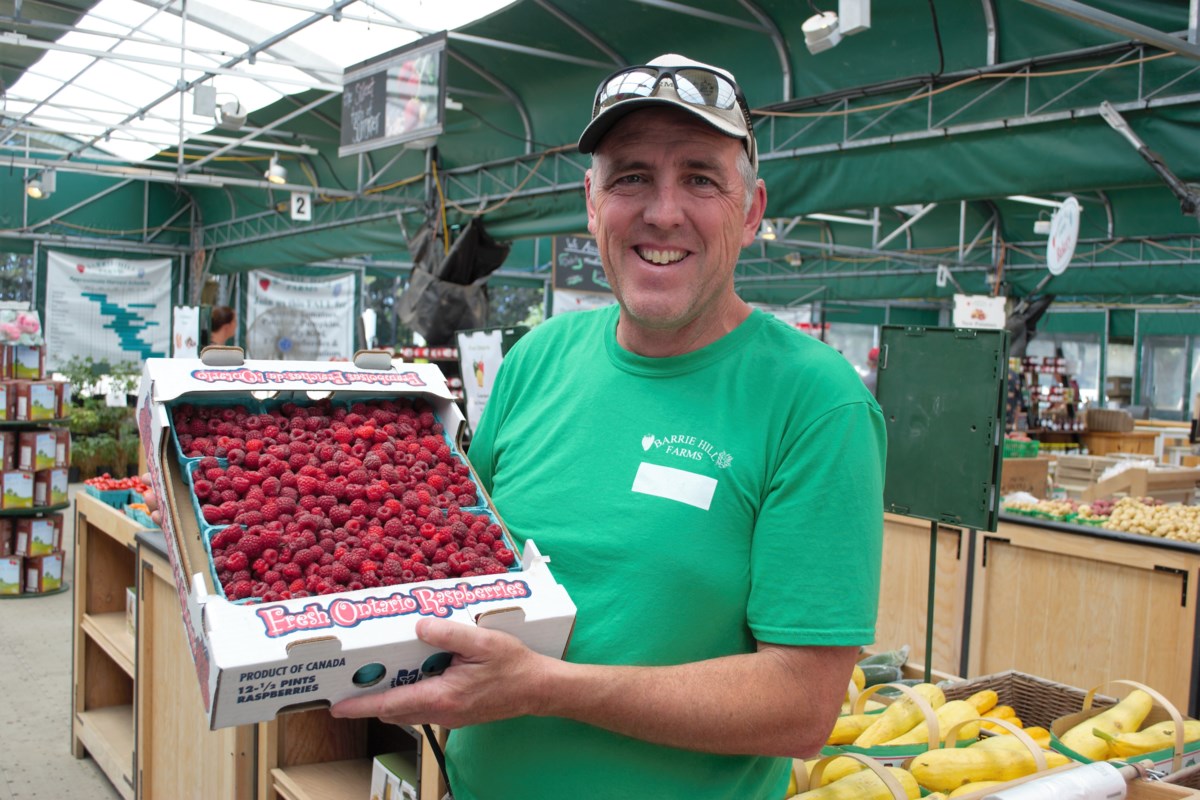 Barrie Hill Farms welcomes visitors to go picking, stay longer in 2022
Barrie Hill Farms owner Morris Gervais eager to see return of regular events at the Springwater Township operation this year
The pick-your-own season at Barrie Hill Farms is poised to be a lot more enjoyable in 2022.
After two years of social-distancing and masking mandates, visitors are finally welcome to stick around and taste the local fresh frozen yogurts after their hard work in the fields at the Springwater Township farm, which is located just west of Barrie.
"We are adding a whole range of featured product and services so that people can buy all local homemade products after their picking visit to the farm," says farm owner Morris Gervais.
In addition to traditional frozen yogurt, the farm shop features popular treats such as scones and muffins made with locally grown blueberries.
"We want people enjoying the visit to the farm and having a little bit different coffee and muffin than they normally have in the city, while enjoying the fresh air and a beautiful countryside," he says.
With COVID protocols being eased, Gervais is planning the upcoming season earlier this year and hoping to see visitors stay longer rather than just picking their berries and going home as most did during the pandemic.
Looking to a return to normalcy, the family-run farm is resuming annual events paused for the past two years, including the Strawberry Festival, Canada Day Festival and the Blueberry Pancake Festival. The latter is in support of Hospice Simcoe and backed by the Knights of Columbus Barrie Council 1626.
"We're looking forward to having those events once again. We don't know what's coming, but we are still hopeful that whatever may come, even if there are some more (variant) complications, we wish people will be allowed at least to gather outdoors again for this season," Gervais says.
On the commercial side, COVID-19 brought about additions to the farm including drive-thru service, curbside pick-up and online orders, as well as a change in the picking-your-own system.
"The government encouraged us to sell our fruits by volume, not per weight. So people who visited the farm would buy an empty basket, fill it up, and go straight to the car to reduce lineups and contact points," Gervais says.
For this year, the farm is switching back to the regular system, which will allow customers to bring their own baskets and pay for the exact weight of what they pick.
Both the drive-thru service and the curbside pick-up for online orders will remain in place as they proved to be popular customer choices.
"People like to drive over and pick up fresh strawberries if they don't have time to go picking on that day," he says.
Gervais also discovered some people were coming and buying for neighbours who wanted to maintain social distancing, or had no time to drive to the farm.
"We decided to offer a discount for visitors who buy four or more flats of strawberries to bring that to their neighbour," he says.
The farm recently added an online store locator to its website so that customers can also buy Barrie Hill Farms fruits and vegetables at a nearby grocery store.
As for the farming operation, Gervais says COVID restrictions made it more difficult due to a shortage of migrant workers. However, he noted in the end that he produced all the same crops that he normally did.
"One thing that struck me early on in the pandemic is that it is a completely human thing. My apple trees, blueberry bushes, and all other crops on the farm grew completely unaffected," he says.
Now, with the quarantine exemption for travellers in place, Gervais is hopeful for a more regular farming season.
"So far, it has been easier to bring our workers from abroad. They have all arrived and tested negative at the airport," he says.