Risotto Stuffed Tomatoes are such a delicious entree or appetizer, you could really serve this in so many different ways.  I love how filling they are, yet low in total calories and really easy to make. Risotto is delicious and when combined in these beautiful fresh tomato halves, you can't go wrong!
Risotto Stuffed Tomatoes: A Flexible Dish For Many Occasions
If I said I had a confession to make would you say,| "Uh oh, what's she going to confess THIS time?"  Ha!  Nothing dramatic although it is kind of odd.  I've NEVER cooked risotto before!  I'm not sure why really because I love it in restaurants and at friends' homes but it always seems to me to be something you ate somewhere other than home.  I made these Risotto Stuffed Tomatoes last year for the first time and have had it many times since. So easy!
By adding spring onions, zucchini, mushroom and a little heat with red chile flakes you've got a scrumptious side dish or main.  If you use the smaller tomatoes, they're great as a snack, too.  You'll definitely want firm tomatoes (on the vine if possible) to ensure they don't crumble under the heat.  They're also easier to cut and scoop.
Lots of recipes call to separate the seeds but to heck with that.  I scoop out the pulp and remove the hardcore and mash the rest.  I'll skip my usual rant about fresh herbs because I ran out of parsley and oregano so was forced to use dried.  I did use fresh basil and thyme though.   Some good Parmesan is a must as well.  You don't want to go to the trouble to make this delectable dish and then ruin it with cheap cheese, right?
I will be making these Risotto Stuffed Tomatoes often!  I loved the ease of this dish and it's yet another way to get that tomato superfood into your diet.  If you make these, I'd love it if you shared it on Instagram and hashtag #barriehillfarms. Let us know how it goes – Cheers!
Risotto Stuffed Tomatoes
A delicious side dish or main made with spring vegetables stuffed into tomatoes and baked. Light, healthy and full of flavor. Risotto Stuffed Tomatoes are going to be your new favourite!
Ingredients
4

tomatoes

medium sized

2

tsp

olive oil

1

garlic clove

minced

1/2

cup

risotto rice

1/4

tsp

red chili flakes

2

spring onions

chopped

1

small

zucchini

chopped

3/4

cup

mushrooms

wiped and sliced

1

cup

vegetable stock

(low-sodium, organic if possible)

2

tbsp

fresh herbs

a combination of parsley, basil, oregano, chopped

1

tbsp

Parmesan

finely grated, omit for vegan

sea salt and freshly ground pepper

fresh thyme or basil for garnish
Instructions
Slice the tops off the tomatoes and set aside. Scoop out the seeds and pulp from the tomatoes with a teaspoon, but be careful not to cut through to the base. Chop the pulp and seeds. Toss the hard, central core.

Heat the oil in a medium saucepan and add garlic, sauteing for 2 minutes. Add rice, chile flakes, onions, zucchini and mushrooms, stirring over low heat for 2 minutes.

Pour in the stock then stir in the fresh herbs, tomato pulp and seeds.

Cook for 15 minutes, stirring frequently until rice is tender and liquid has been absorbed – add extra stock if necessary.

Turn off the heat, add Parmesan. Season with salt and pepper and stir well.

Put the tomatoes in an ovenproof dish and fill each one generously with the risotto. Replace tomato tops and bake, uncovered, for 15-20 minutes until the tomatoes are tender. Cool for 5 minutes, then garnish with fresh thyme or basil.
Nutrition
Calories:
184
kcal
Carbohydrates:
28
g
Protein:
5
g
Fat:
5
g
Sodium:
266
mg
Potassium:
438
mg
Fiber:
3
g
Sugar:
4
g
Vitamin A:
1245
IU
Vitamin C:
19.1
mg
Calcium:
51
mg
Iron:
2.3
mg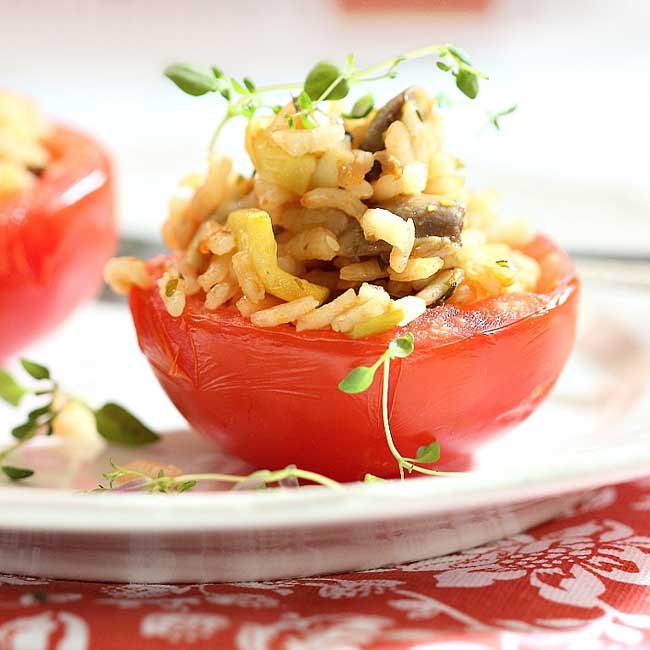 Follow us on Facebook for more delicious farm-fresh recipes, and updates on our growing seasons!
Recipe courtesy of Simply Fresh Dinners,  A partner with Barrie Hill Farms in bringing fresh recipes to your table.
More Tomato Recipes from Barrie Hill Farms
Tomato Basil Salad with Green Beans
Roasted Grape Tomatoes with Herbs
When are Tomatoes Available at Barrie Hills Farm?