Cooking with fresh vegetables has to be one of my favorite things to do! I keep this green beans with bacon recipe super simple – just the bare bones!  Sometimes simple is good and with our busy lives, preparing a dish that is not only healthy but also delicious is important. Despite this recipe using the bare bones, once you add a light dressing you will have a tasty side dish that will go with almost any main course.
Cooking Green Beans With Bacon
The photography is a little different today – be patient with me please, I'm experimenting!  I promise it will get better.  After talking with my blogger/photographer friend, Anita (check out her amazing Instagram and blog) this week I decided it's important not to become complacent and to experiment along the way while I develop my style.  I'll try to be sure the food always looks good even if my props and backgrounds are a little off!
At Barrie Hill Farms, they've got beans for miles and miles!  Last year I was inspired to make a Spicy Thai Bean Salad when the beans were in season.  I also managed to sneak some bacon into that dish, ha!  The bacon at the farm is so darn delicious I am always trying to find a way to include it.
Beans on their own may not sound all that appetizing, but when you combine these green beans with bacon, that dish starts to sound a little more exciting! I boil the beans at the same time that I am lightly crisping the bacon on a skillet since the preparation of both do not take that long.  It cuts down on the time and allows me to spend more time eating and enjoying this delicious side dish!
Health Benefits of Green Beans
We often think of green beans going into soups, stews, and casseroles but I think we forget about fresh beans as a healthy additive in the summer.  In addition, green beans are a good source of copper, vitamin B1, chromium, magnesium, calcium, potassium, phosphorus, choline, vitamin A (in the form of carotenoids), niacin, protein, omega-3 fatty acids, iron, vitamin B6 and vitamin E.  Whew!  that's a lot of nutrients and goodness for you and your growing children!  Besides that, they taste great!
You'll want to pick up fresh beans while you can because like everything else in certain parts of North America, the growing season is short.  I can't believe we're into August already.  Say it isn't so!  In the meantime, share your fabulous summer creations with me on Instagram.  You know I'm dying to see what goes on your grill!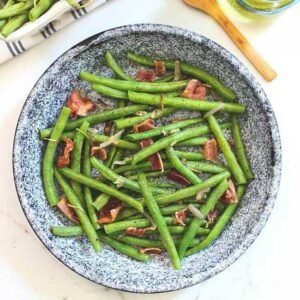 Green Beans With Bacon And Shallots
Ingredients
2

pounds

green beans

trimmed

6

slices

bacon

2

shallots

sliced

2

tbsp

cider vinegar

2

tbsp

whole grain mustard

2

tbsp

olive oil
Instructions
Bring a large pot of water to a boil and add 1 tablespoon salt. Add the green beans and cook until just tender, 3-4 minutes. Drain and immerse in ice bath. Drain and spread out on paper towels to thoroughly dry.

Meanwhile, in a medium skillet, cook the bacon over medium heat until crisp, 6 to 8 minutes; transfer to a paper towel-lined plate. Let cool, then break into pieces.

Discard all but 1 tablespoon of the bacon drippings from the skillet and return to medium heat. Add the shallots and cook, stirring, for 1 minute and remove.
Dressing:
Combine vinegar, mustard, oil, ¾ teaspoon salt, and ¼ teaspoon pepper. Add to the green beans, along with the bacon, and toss to combine.
Nutrition
Calories:
142
kcal
Carbohydrates:
9
g
Protein:
4
g
Fat:
10
g
Saturated Fat:
2
g
Cholesterol:
10
mg
Sodium:
159
mg
Potassium:
297
mg
Fiber:
3
g
Sugar:
4
g
Vitamin A:
780
IU
Vitamin C:
14.4
mg
Calcium:
46
mg
Iron:
1.4
mg
Follow us on Facebook for more delicious farm-fresh recipes, and updates on our growing seasons!
Recipe courtesy of Simply Fresh Dinners,  A partner with Barrie Hill Farms in bringing fresh recipes to your table.
More Green Bean Recipes from Barrie Hill Farms
Tomato Basil Salad with Fresh Green Beans
When are Green Beans Available at Barrie Hills Farm?