This Berry French Toast Casserole mixes delicious berries with an even sweeter french toast and can be made with lots of tasty additions. Anyone that likes to eat breakfast for dinner will love this sweet treat that makes a great breakfast (or dinner!).  The crunchiness of the granola adds to the already wide variety of textures in this dish that everyone is going to love.

Berry French Toast Casserole: An All-Day Treat
Berry French Toast Casserole is now my favorite meal!  Oh boy, I could have this for breakfast, lunch and dinner!  The best thing is that you don't need refined sugar when you've got the sweetness from all those berries PLUS I added some pure maple syrup and freshly squeezed orange juice.  Gotta love it, right?
If you're like me and demand some texture in your food then I've got that for you too.  A delicious maple granola tops this treat – love that extra tasty crunch! My friend, Fran, from Not Yer Granny's Granola hand-bakes it in small batches and it's chock full of natural, healthy ingredients.   Of course, this doesn't require three berries.  If you just want to use one that works just fine, too.  For a berry nut like me, I would have used 10 varieties if they were available to me!
Locally Bought & Locally Made
I love it when I can create a meal with locally made products. The berries are from Barrie Hill Farms, the delicious eggs, freshly baked bread, and pure maple syrup are from local markets and the milk is from a local company, Sheldon Creek Dairy. Don't you love the little bottle shaped like a maple leaf for the maple syrup?  We're very proud of our syrup up here, ha!
You can make this in a baking dish or let the kids help make up their own ramekins.  You can also prepare this the night before and just cover and refrigerate.  I simply poured the egg mixture over the bread and let it sit on the counter for 30 minutes before tossing it in the oven. The flavors were top notch so either way will work depending on your schedule.
This doesn't have to be just for the weekends.   By preparing it the night before, it's an easy and delicious way to start your weekday as well.  I especially love this recipe because it's a year-round treat.  You can even use well-frozen berries in the winter!  I think we all need more french toast, don't you?
Don't forget to share your photos with me on Instagram with the hashtag, #BarrieHillFarms.  I want to know what you're going with your berries this summer.  Cheers!
Berry French Toast Casserole
You don't need loads of refined sugar for tasty french toast. Sweeten it with berries, pure maple syrup and freshly squeezed orange juice.
Ingredients
1

loaf

whole grain bread

or challah, farmer's market bread – your choice

8

eggs

you can use 4 eggs and 4 egg whites if you prefer)

1.5

cups

unsweetened almond milk

(or coconut milk, whole milk, skim milk)

1/4

cup

pure maple syrup

1

tsp

vanilla extract

2

tsp

orange juice

freshly squeezed

zest from 1/2 the orange

pinch of nutmeg

2

cups

fresh blueberries

(or frozen)

1

cup

raspberries

1

cup

blackberries

1

cup

granola

extra maple syrup for drizzling
Instructions
In a large mixing bowl, combine the eggs, milk, maple syrup, extract, orange juice, orange zest, cinnamon, nutmeg. Whisk well.

Oil a baking dish (about 9 x 13) or ramekins and fill with bread.

Pour the liquid mixture over the bread and allow it to sit for at least 30 minutes, mixing once or twice to be sure all parts of the bread are moistened.

Bake the casserole at 350 F. for about 20 minutes. Remove and sprinkle with half of the granola; return to oven and bake another 15 minutes or until there is no longer any liquid between the bread.

Remove from oven and let sit for 5 minutes. Top with raspberries, blackberries and remaining granola. Drizzle with additional maple syrup.
Nutrition
Calories:
410
kcal
Carbohydrates:
58
g
Protein:
17
g
Fat:
12
g
Saturated Fat:
2
g
Cholesterol:
218
mg
Sodium:
173
mg
Potassium:
297
mg
Fiber:
5
g
Sugar:
22
g
Vitamin A:
395
IU
Vitamin C:
16.3
mg
Calcium:
155
mg
Iron:
2.3
mg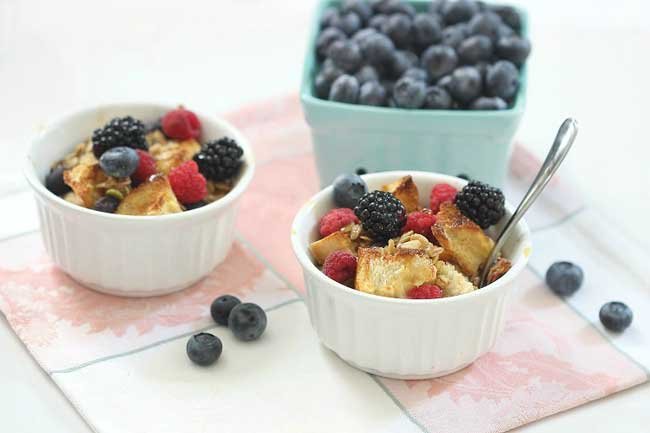 Follow us on Facebook for more delicious farm-fresh recipes, and updates on our growing seasons!
Recipe courtesy of Simply Fresh Dinners,  A partner with Barrie Hill Farms in bringing fresh recipes to your table.
More Berry Recipes from Barrie Hill Farms
Seared Scallops in Blueberry Sauce
When are Berries Available at Barrie Hills Farm?