Balsamic Blueberry Steak Crostinis are the ultimate sweet and savory delight.  Caution though – these easy appetizers are very addictive!
They are messy and sloppy and you'll want to rip into them so be sure you're serving them to friends and not the boss or someone you want to impress.  But oh man, are they delicious!
You can do this with any type of steak and it doesn't have to be spiced with peppercorn but it certainly adds that extra bite.  Likewise with the greens – I used spinach leaves but feel free to use anything you have handy.   Arugula would be a scrumptious substitute.
Did you know these important facts about blueberries?
A one cup serving of blueberries – about a handful – contains just 80 calories, but a whopping 25 percent of your recommended daily allowance of Vitamin C and 4 grams of fiber.
They slow the aging process.  Everyone wants a natural "fountain of youth" – and slowing the breakdown of DNA in your body might get you there.
Promotes heart health. Eating blueberries has been linked to reducing high blood pressure. It also reduces the stiffness in arterial walls, allowing the blood to flow more smoothly through your body.
I added some fresh herbs to the goat cheese and whipped it to give it some fluffiness.  The blueberry/balsamic sauce came together in 4 minutes with a simple addition of maple syrup.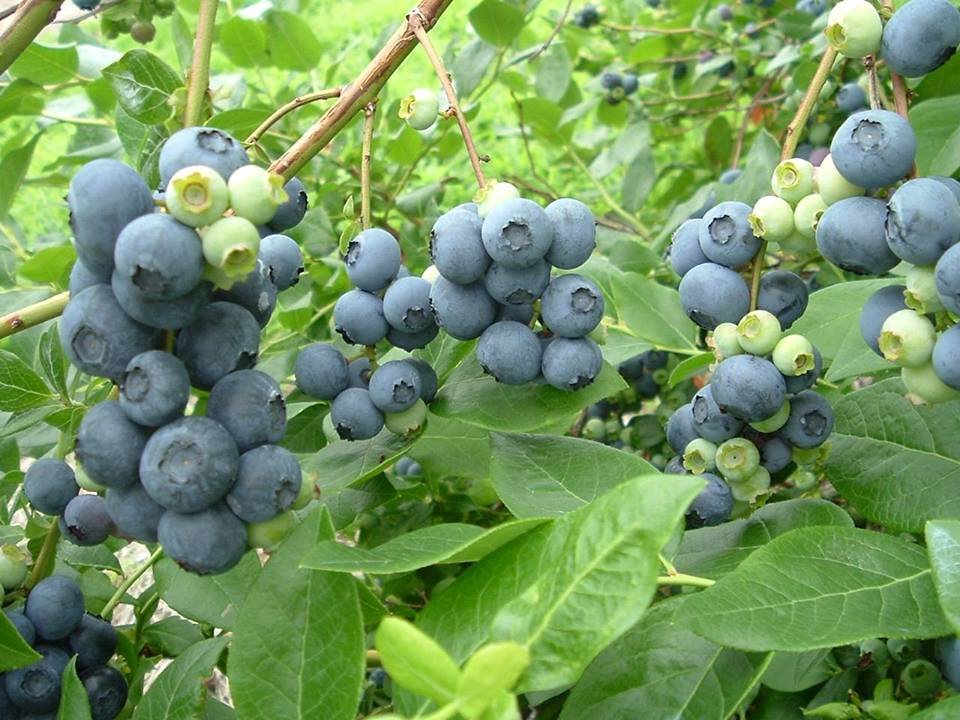 Some fresh chives on top with a few pea tendrils strewn about make for an attractive presentation, don't you think?  Along with the herbs, the blueberries are fresh picked from Barrie Hill Farms and were beyond delicious.  I'm smacking my lips again just thinking about the taste!
Another bonus about making these delectable little bites is that you can convince the grill master in your family to help out.  The more, the merrier – right?
I've been told by American friends and family that we have too many long weekends in the summer.  Is that really possible?!  Americans need to lobby for that extra August holiday – we celebrate summer on the first long weekend of each August.   And I suppose it's also a  celebration of surviving our winters, ha!  Cheers, everyone!
Balsamic Blueberry Steak Crostinis
Blueberry sauce on steak is the ultimate sweet and savory delight. Caution though - these easy appetizers are very addictive!
Ingredients
1

baguette, cut into bite sized pieces

2

tbsp

olive oil

1

pound

peppercorn steak, or regular steak, cut of your choice

1-2

tbsp

black and white peppercorns, crushed

1 1/2

tbsp

unsalted butter

8

ounces

goat cheese

1

tbsp

fresh chives, chopped

1

clove

garlic, crushed

handful of spinach or arugula leaves, washed and trimmed

1/2

cup

balsamic vinegar

1

cup

blueberries

1/3

cup

pure maple syrup

Additional fresh chives, chopped, for topping
Instructions
For peppercorn steak, rub the crushed peppercorns into the steak, pressing them lightly to ensure they stay while cooking. Melt butter in saucepan on high heat and cook approximately 2-3 minutes per side. (can be grilled as well)Steak should be medium rare for crostini. Remove from heat, tent loosely with foil and let rest while you prepare the other ingredients. Slice thinly after 10 -15 minutes.

Preheat oven to 350 and brush baguette piece lightly with olive oil. Place on baking sheet and toast for 5-7 minutes until golden. Remove.

You can slice the goat cheese or whip it. To whip put in food processor or use mixer, adding chives and garlic. Whip until fluffy. 1 – 2 minutes.

Combine balsamic vinegar, blueberries and maple syrup in saucepan and bring to a boil before reducing heat to low and simmer for 5 minutes. Mixture should stick lightly to spoon.

Assembly:

Place one spinach leaf on each baguette piece followed by a generous dollop of goat cheese. Place one slice of steak on top of cheese, and drizzle with blueberry/balsamic sauce. Top with chopped chives.

Serve immediately
Follow us on Facebook for more delicious farm-fresh recipes, and updates on our growing seasons!
Recipe courtesy of Simply Fresh Dinners,  A partner with Barrie Hill Farms in bringing fresh recipes to your table.
More Blueberry Recipes from Barrie Hill Farms
When are Blueberries Available at Barrie Hills Farm?